Payments
Make checks payable to "The Meadows East" and send to the following mailing address:
The Meadows East
PO BOX 93866
Las Vegas, NV 89193-3866
Make sure to submit your payment at least 5 business days before the late date and include your account number on your check.
Pay Online by eCheck or Credit Card Need Help Paying Online?
Contact Info
Phone
(480) 759-4945

Fax
(480) 759-8683
Email
themeadowseast@wearevision.com

Address
The Meadows East
c/o Vision Community Management
16625 S. Desert Foothills Pkwy.
Phoenix, AZ 85048
Community Team
Community Association Manager
Katie Rittmer
Assistant Community Association Manager
Michael Valdez
Community Accountant
Daniel Carvajal
Accounts Receivable Specialist
Kim Smith
Director, Community Association Management
Jen Amundson CMCA, AMS
Announcements
2023 Holiday Decorating Contest
Voting From 12/4 - 12/17.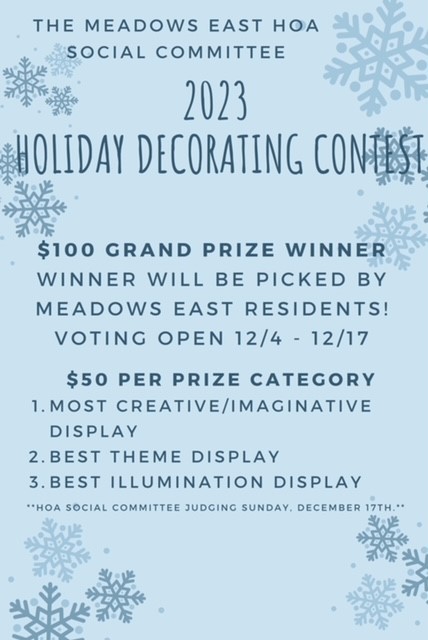 Upcoming Meetings
Open Meeting
Date/Time: Monday, January 15, 2024 at 7:00 PM
Executive Session
Date/Time: Monday, February 19, 2024 at 6:00 PM
Teleconferencing: via Zoom
The executive session shall be a closed meeting pursuant to ARS §33-1248/33-1804(A)(3) and (5).
Community Documents
Escrow / Resale Fees
Community Map